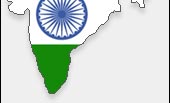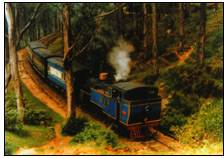 :: Mountain trains
duration of trip: -
price: Also accessible to the backpack traveller
> Hill trains of India

The narrow gauge steam trains climb slowly uphill in different parts of Northern India. Every hour or two they reach an idyllic mountain station surrounded by snowy peaks. And soon they continue zigzagging upwards. Five railway lines in Northern India transport people from the burning heat to the cool mountains.


The Kalka-Shimla track was originally built by the British and it leads to Shimla, the summer capital of British India, which is now the state capital of Himachal Pradesh. Climbing the 96 kms track takes the hardy, if a bit slow, steam locomotives six hours. In addition to the gorgeous scenery the track includes 107 tunnels, the longest of them a kilometer and a half.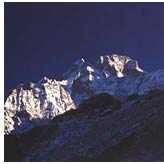 Darjeeling Himalayan Railway in West Bengal is a UNESCO World Heritage site. The view from the Darjeeling station, at 2127 meters, to Kanchenjunga, the 3rd highest mountain peak in the world, is breathtaking.'

Nilgiri Mountain Railway runs at 2600 meters on the Nilgiri Mountains of Tamil Nadu with Udagamandalam as its end station. The steam train, which runs 33 kms/h at best, uses four and a half hours to a voyage of 46 kilometers.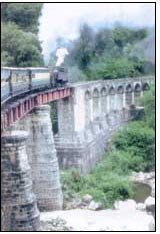 Matheran Hill Railway lies at the immediate vicinity of the megalopolis of Mumbai - and is its total opposite, offering silence, unpolluted scenery and birdsong! The train trip from Nerala to Matherani takes only an hour and a half by a train called the Toy Train. The train operates during daylight hours.

Kangra Valley railway at the Kangra Valley of Himachal Pradesh provides plenty to see, whether the traveller's special interest is nature, culture or pilgrimage. The train travel lasts almost ten hours.