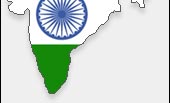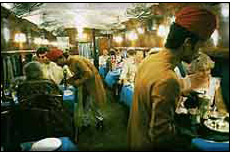 :: Royal Orient Train
duration of trip: 7 vuorokautta
route: Delhi, Udaipur, Chittaurgarh, Mahesana, Ahmedabad, Sasan Gir, Palitana, Jaipur, Delhi
price: 132-350 USD/day
more information:
> Luxury trains in India
> www.india-royalorient.com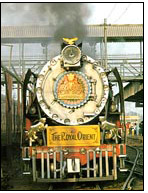 The Royal Orient does its one-week journey through Gujarat and Rajasthan like the Palace On Wheels, but the cost is somewhat lower. The 13-wagon train is also equipped like a first-class hotel, complete with air conditioning. The train starts its journey at Delhi and returns on the next week's Wednesday.

The Royal Orient Train takes its passengers in an old-fashioned way through the states of Rajasthan and Gujarat, which have seen many Maharajahs, stopping among other places at Jaipur, the "Pink city", and Diu, a town with turquoise sea and palm trees.



Let us hear the tourist officials of Gujarat:"The Royal Orient will transport you to palaces and forts steeped in legends of heroism and chivalry. You will feel the spirituality of an ancient Jain temple-city. You will soak your feet in the warm waters of the Arabian Sea and laze on the beach. You will safari in jungles to see the only lions outside Africa. You will shop for exquisite handicrafts as old as history - in shops blaring Michael Jackson music."