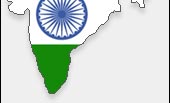 :: Palace On Wheels
duration of trip: 7 days
route: Delhi, Jaipur, Jaiselmer, Jodhpur, Sawai Madohpur, Chittaurgarh, Udaipur, Bharatpur, Agra, Delhi
price: 240-485 USD/day
added information:
> official home pages
> Luxury trains in India
> www.india- palaceonwheels.com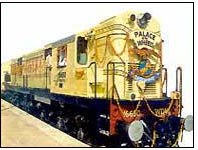 The Palace On Wheels express is a compendium of different Maharajahs' personal wagons, with the plus of modern comforts such as air conditioning. Each wagon of this 14-wagon train has a minibar and kitchen as well as hot and cold running water. In addition there are two restaurants, a library and a first aid room.

The De Luxe train began traffic in January 1982when the Indian government, Indian Railways and the tourism officials of the state of Rajasthan wanted to offer a novel way to get to know Rajasthan. By April 2002, 36 096 tourists had enjoyed the 578 trips of the Palace on Wheels.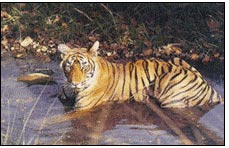 Apart from the vehicle itself, the route is unique too. In Rajasthan, the state of Maharajahs, you can see the most gorgeous achievements of the Indian architectural heritage, the crowning glory being the world's most famous manifestation of love, the Taj Mahal. You can get close to Indian nature in the Ranthambor national park, famous for its Bengal tigers, or at Udaipur, noted for its many lakes.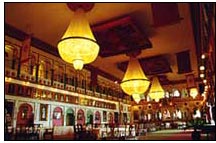 The 14 Palace on Wheel wagons have been modified for 104 passengers. Each wagon has a small but varied library. Should homesickness surprise you, or should you urgently need to sell some shares, a satellite phone connects you to anywhere on Earth. Each wagon also has its own staff - in fact, the train often has more staff than passengers, so lack of services should not be a problem.